Kirjoittajat
Rehabilitation games and virtual reality applications – an article by a wheelchair user
26.10.2017
Introduction
The Futuristic Interactive Technologies research group of Turku University of Applied Sciences (TUAS) focuses in its RDI operations on the agile applications of the game development processes of the entertainment game industry in practice. Interactive technology solutions are implemented, for instance, for the technology industry and the fields of well-being, education and tourism in cooperation with experts from different sectors. The research concentrates on matters related to gamification, serious games, game-based simulations, augmented reality (AR) and virtual environments.
The long-running cooperation with Sendai Finland Wellbeing Center was concretized in August as the research group participated in the H.C.R. exhibition in Tokyo, Japan. The very same development trends were highlighted in the supply and programme of the exhibition as the ones studied in, for example, the Business Ecosystems in Effective Exergaming (BEE) project by the Futuristic Interactive Technologies research group, namely the usability, feasibility and effectiveness on the rehabilitation process of the gamified rehabilitation methods that utilize remote technology. The research responds to a global and increasing need for digital health technology solutions and new effective practices.
The use of rehabilitation games in different environments is currently being researched. One suitable target is the COGY wheelchair simulator by the Japanese company TESS, because the objective of the BEE project is to further develop the Asian cooperation and understanding of the construction of business ecosystems relating to rehabilitation games. Rehabilitation games have already been adapted to suit simulator environment. In future, the research group will focus on the usability testing both in Finland and in Japan.
The author of this article (below) is a Japanese writer interested in applications of Virtual Reality (VR) in health care. Having suffered from subarachnoid hemorrhage and being subsequently partially paralyzed with a speech disorder, the author wishes to promote the recognition of VR for purposes other than entertainment, particularly for applications targeted at the disabled.
Virtual Reality at H.C.R. exhibition – a report by wheelchair user
The international Home Care & Rehabilitation Exhibition (H.C.R.) 2017 was held at the Tokyo Big Site at the end of September. It is a big event, displaying 200,000 welfare equipment from 15 countries. Some years ago I fell seriously ill and was hospitalized for a year. After that, I have visited H.C.R. exhibition every year. This was my 5th time, and this time I had a purpose.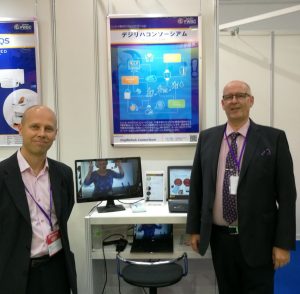 I have often heard that Virtual Reality (VR) is being used in the health care environment. I was curious to see how it is really being used. Lately, it seems that a wider range of robots, equipment and software with Artificial Intelligence (AI) are being exhibited. I believe that in the near future, sooner than we think, we will be living with such robots and AI-loaded ones. A pet robot that will heal us, a power suit that supports a care worker, thus facilitating easier coping in awkward positions; solutions like these will appear.
When searching for VR solutions at the exhibition, I found a group called Sendai Finland Wellbeing Center. It is an organization that supports the development of VR system using footwear wheelchair COGY and supports communication with TESS (company) in Japan and Turku University of Applied Sciences (TUAS) in Finland. The system uses VR to promote rehabilitation.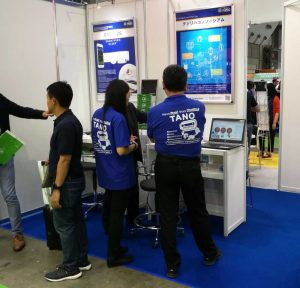 Encounters with COGY
A few years ago, I tried a COGY at Cyberdyne's studio, which developed a walking training robot. I had not been able to move myself since my hospitalization after the illness left my left side permanently paralyzed. COGY helped me move with my own will in the studio; I felt happy and spun around the studio just because it was now possible.
Earlier this year, my friend sent me some material about COGY. Shortly after that, a magazine editor introduced COGY by saying, 'Now you can run the Honolulu marathon.' And now that I was searching for information of VR, I ran into COGY again at the H.C.R. exhibition.
Development of the COGY rehabilitation software is progressing based on the efforts of TUAS. The VR I saw at H.C.R. shows a plateau similar to a large golf course on the screen.
So I went and started pedaling COGY. If you turn right, the screen changes to the right and progresses steadily, and the distance you have advanced is also displayed. It is much more interesting than just merely pedaling in the room. Setting a goal is also easy: Let's go to the top of that hill there, you can decide. This is a virtual reality screen that does not require special goggles. I think this is groundbreaking for people who have to rehabilitate at the care facility and at home. At our home I rehabilitate myself by using foot pedaling in the living room, but I get tired easily. I am doing it while watching television, but there is always the possibility of becoming too obsessed with TV and neglecting my legs!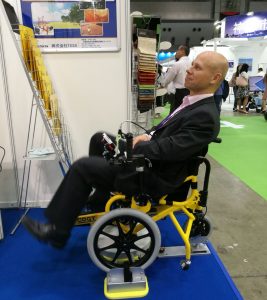 Dr. Mika Luimula from TUAS is testing the system which uses VR to promote rehabilitation.
The next steps in the development?
According to Dr. Mika Luimula from TUAS, developing this software, says that a software for driver's training for elderly people is also being developed. I also saw elderly people driving with VR goggles on and accessed data demonstrating that VR-assisted rehabilitation might be an effective form of rehabilitation. It will surely provide interesting results if such software and COGY, which I am recommended by many, are promoted and made easier accessible.
The developers have even been talking about the possibility of using the town in which the user of the rehabilitation software used to live and their childhood scenes to personalize the VR software. This is something I'm sure will motivate the users several times more than the current generic environment.
When I pedaled to the top on that hill, I would have liked to see the scenery with VR goggles (not on screen). If the user is able to overlook 360 degrees, also above and below, it will help them experience the wonderful landscape and further motivate them to continue their rehabilitation.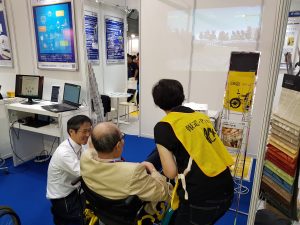 The photo shows the author of this article testing the device by TUAS, demonstrating that a person with a difficult disability is able to and interested in playing games such as this one. The test person is in the foreground, and the background provides a fuzzy image of the rehabilitation game.